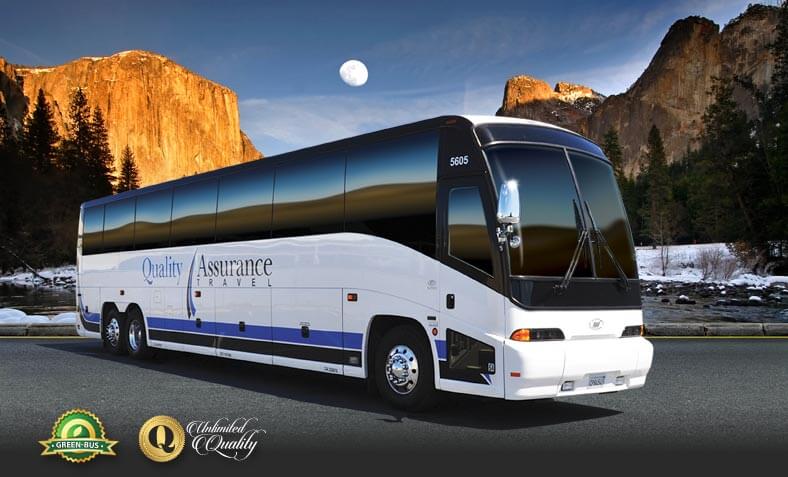 ---
At Quality Assurance Travel, it's easy being green— and it's also the right thing to do.
What does this mean for you and our environment? Plenty. In addition to being energy-compliant, we think you'll be amazed at the miles per gallon, per-passenger fuel efficiency of these buses.
For example, one charter bus can take the place of up to 55 cars out on the highway. Now multiply that by up to nine (9) miles per gallon at $4.00 or more per gallon and we think you'll see what we're talking about.
Save money. Save the planet. Save the hassle.
---
You're taking a family trip. What would you rather do?
Listen to your spouse tell you how to drive while the kids scream in the back seat
- OR -
Sit back, relax and take in the beautiful scenery from your luxurious bus seat?
You're traveling to work. How would you rather commute?
Put wear and tear on your car and think about what your commute is costing you, while you stress out and fight road rage
- OR -
Read, nap, talk with fellow bus passengers, ease congestion and reduce emissions?
---
The choice is yours!
---
And while you're choosing, think about this:
Switching to bus travel for the 12,500 miles traveled annually by the average car automobile would reduce carbon dioxide emissions by 4.3 tons per automobile annually.
Motorcoaches are on average six times more energy and fuel-efficient than single occupancy automobiles.
Carbon dioxide emissions are reduced by an average of 85 percent per passenger mile for every person who chooses bus travel instead of driving alone.