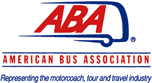 The American Bus Association (ABA) is the largest and oldest charter bus rental association in the U.S. and Canada. All members of this organization agree to uphold the associations highest standards of ethics and practices with regards to safety and service. Approximately 900 bus charter carriers of the more than 7000 passenger carriers in the U.S. are members of the American Bus Association, including Quality Assurance Travel, Inc.
---

The California Bus Association (CBA) works much like the ABA, UMA and The BUS CO-OP by requiring each member to adhere to strict standards for safety and service. While the CBA works to promote membership on a Federal level, its main interest is to work within the State of California regarding intrastate concerns. By working through the California State Legislature and the California Highway Patrol, the CBA is always looking to secure means to safer transportation for the traveling public.
---

Interstate motorcoach and bus carriers annually register with the FMCSA, a branch of the Dept. of Transportation (USDOT). The FMCSA sets regulations for all charter bus carriers, and periodically audits for compliance. The FMCSA inspects interstate bus companies for; accidents, vehicle maintenance practices, on-duty and driving hours, drug and alcohol testing, driver and staff credentials, and much more.
---

Quality Assurance Travel, Inc. is a proud member of the Dun and Bradstreet Consumer Awareness Program. This program allows our customer to view information about our Company to determine our corporate financial and service position.